Stud record tumbles at Gemini Prime Lamb Sires
Courtesy of
Janine Elen, Outriders Media
October 20 2021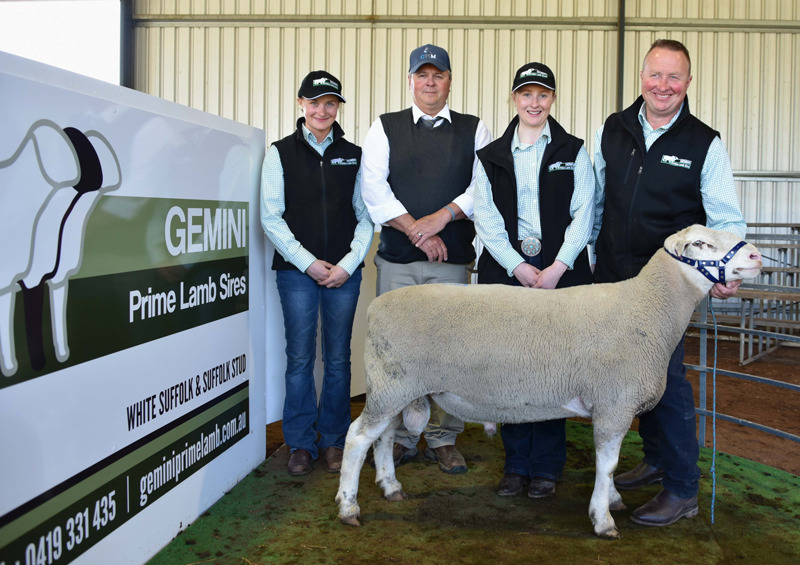 L to R – Top Priced Ram Lot 1, G 200361, with Chloe Mitchell, Michael Glasser, Ray White GTSM, Emily Mitchell with principal Craig Mitchell.
The Gemini Prime Lamb Sires 23rd annual spring sale achieved a stud milestone setting a new record price of $18,000, the highest ever paid for one of their White Suffolk rams.
A large gallery at the Werneth property witnessed Lot 1, G 200361 make history as spirited bidding from both the sale barn and online bidders saw the hammer fall at $18,000 with the ram on his way to Hedingham White Suffolk Stud in Western Australia.
Principal Craig Mitchell said "I'm really happy with the level of interest in Lot 1 from some high-profile studs around Australia. We had a lot of enquiry leading into the sale on this ram and to break our own record is a great achievement".
A quality catalogue of 124 Lots were offered at the October 20 auction last week with 91 rams to a top of $18,000, and average of $1990 to a range of interested buyers from across the country including NSW, Western Australia and Victoria.
13 specially selected White Suffolk rams achieved an average of $3711 while the flock ram draft sold to a top of $3,000 with an average of $1700.
Mr Mitchell said, "It was really big crowd on the day and I'm happy with the support we got from all buyers both locally and interstate. There was great value buying across the draft with high performance rams selling down to $1,000".
Successfully purchased by Warren Thompson, Hedingham White Suffolk, Wickepin in Western Australia, the sale-topping ram, Lot 1, G 200361, is a son of Gemini 170470 and has a TCP score of 163.44, the Top 1% of the breed.  He also sits in the Top 1% for WWT, 14.63, PWWT 21.94 and Top 20% for PEMD.
"I had my eye on him for about three weeks as I have been chasing that style of sheep", said Mr Thompson. "He is a very upstanding ram, plenty of meat on him and good PWWT.  Just a really, really good ram".
"We went above what we intended to pay but I've had a semen order on him already" he added. "At Hedingham we breed for flock ram clients and this is the style of sheep they are after".
Mr Mitchell said, "Lot 1 is a great breed type, his figures, structure, muscling are all outstanding and his sire, 470's pedigree is very solid in meat eating traits, tremendous carcase, a really top performer that carries through his progeny".
Also headed across the border is Lot 6, G 200080, the 2nd top priced ram in the draft for $5,000, who was picked up by stud buyers, Guy Treweek, Induro White Suffolks, Wakool, NSW.
Lot 6 is a "great White Suffolk type with plenty of thickness" said Mr Treweek.  "He is pretty balanced ram across his figures".
"We are introducing different bloodlines into our breeding program and this ram will add a bit more thickness" he added.
The largest volume buyers were long term clients Junray Pty Ltd, Shelburn, Shelford who have been buying from Gemini Prime Lamb Sires for over a decade, snapped up thirteen White Suffolk rams to a top of $2600, 5 times, with an average of $2084.
Shelburn Farm Manager, Gordon Brown said "I bought what I was looking for. They are very, very good rams".
"We use these rams over maiden ewes, as the lambs have an excellent survival rate, are birthweight controlled with good growthing lambs and processors like the product I deliver to them".
"Craig is a very good operator and they are very good sheep. He is very committed to the industry, and I like to support Gemini every year", Mr Brown added.
Rams also sold to the Ford family's Anneleigh Stud, NSW who picked up Lot 64, G 200410 for $3,000.  Other volume buyers include the Beach Family, Birregura who snapped up eight rams with a top of $3,000 for Lot 8, G 200056, and another eight rams including are on their way to Mondilibi Pastoral, Mortlake.
The sale was conducted by Ray White GTSM, with Michael Glasser as auctioneer.  "It was a very favourable result, and the prices people were willing to pay for flock rams is in keeping with where the industry sits".
"The sale-topping $18,000 specially selected ram is a testament to where the Gemini stud sits within in the seed stock industry", said Mr Glasser.
Mr Mitchell said, "Overall the sale reflected pretty good value for money for the quality of the sheep sold".
"The strength in repeat buyers came through even though we didn't have a full clearance".
"I really thank everyone for coming along.  To have a top of $18,000 is a fantastic outcome and for our commercial clients to get the sheep they wanted it was a great day.  We wish everyone well with their purchases".