Spring ram buying guide: Technology puts Gemini up with stars
Courtesy of
KATE DOWLER, The Weekly Times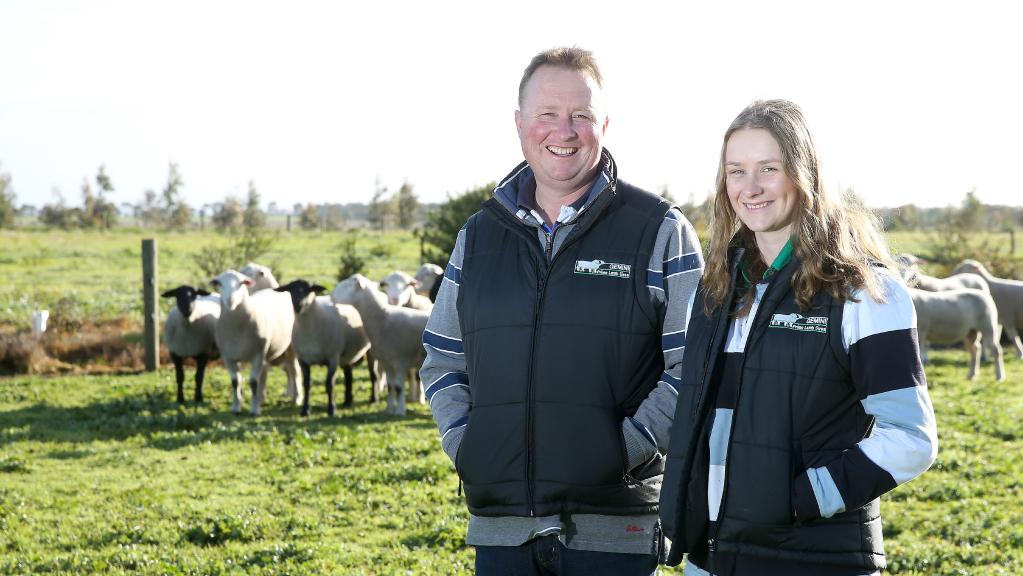 WITH a focus on performance and animal health, Werneth stud sheep breeders Craig and Rosalie Mitchell have worked up from a humble start to selling 200 rams a year.
The White Suffolk, Suffolk and Poll Dorset breeders are big believers in performance recording and are using DNA testing and electronic identification to accelerate the genetic gain of their flock.
But older comparison and marketing tools — such as showing — remain an avenue to put the stud's name, Gemini, out there.
As Craig puts it, he and Rosalie "weren't fortunate enough to inherit a farm".
"We leased blocks to start with, we even leased house blocks around Geelong until we were able to lease a bigger place," he said.
After buying land at Inverleigh, which then rapidly increased in value, they were able to buy a 170ha property at Werneth, 12 years ago, where they run the three studs.
"For many young people who want to get into farming it can be very hard, we were fortunate in the timing of when we bought land," he said.
Craig started the stud 28 years ago.
Daughters Emily, 18, and Chloe, 17, have recently become more involved and have taken an interest in the Suffolks.
Spring ram buying guide
Gemini has been involved with performance recording and used LambPlan "since its inception".
"I'm a firm believer in performance recording; it plays a big part in what we do, along with structure," he said.
"You can have the best figures but if the ram can't walk, you've got problems."
Craig said in all three breeds he had a focus on structure, lambing ease, high growth rates and higher yielding capabilities.
Or, as he puts, the traits that make up "functional and highly productive sheep".
He is also using the latest DNA technology to chase breeding objectives — through prior involvement in Sheep CRC Projects — and is using EID to its potential.
"There will be more and more opportunities to get carcass feedback in future, so I am a big believer in using EID," Craig said.
He has used the technology for six years and has his laptop hooked up to the "wand", or electronic tag reader, in the woolshed to scan each animal as he classes it.
"It instantly brings up all that animal's pedigree, EBV data and I can make a decision then and there, looking a the animal in front of me," he said.
"I don't have to go back to the office and sort through paper to find the information, it is all right in front of me.
"It has produced huge gains in efficiency, using EID has saved me a week's work per year, and it is more accurate."
His clients are also starting to use EID to trace their ewes' performance and bloodlines.
DNA testing is also helping Craig better track performance.
"We are using DNA tests, too, to get a snapshot of where we are at, but as the price for the tests comes down we will use it more," he said.
He said it could be used to more rapidly improve lean meat yield, intramuscular fat and shear force.
Craig said he was looking forward to processors being able to give producers more direct feedback on their animal's meat eating quality.
"What we are getting back now is probably going to be insignificant compared to what we will get in five to 10 years," he said.
And, in his view, weeding out under-performing stock could only be a positive move.
"I don't have a problem with whether we get paid for it (meat quality) or not, or if the producers not doing the job right get penalised," he said.
"At the moment a lot of people (producers) are probably getting rewarded for lambs that are not that great and they probably don't deserve to be. We have to produce a great quality product consistently to compete against other meats; we need to make sure we are in a position to do that and that the consumer has an enjoyable eating experience with lamb, consistently."
Gemini has 400 breeding ewes. The focus is White Suffolks, but there are also 20 Suffolk ewes and 50 Poll Dorset breeders.
 
The Suffolk interest came from a family friend, Murray Dolman, who had a Suffolk stud.
Gemini sells 200 sale rams at two on-property sales, in October and February.
Showing is still part of the stud's marketing efforts.
"It doesn't hurt to compare your sheep (visually) to other people's," Craig said.
"But we don't produce sheep for the show, our sheep are all the one type."
Despite this, Gemini has won champion ribbons at every major Victorian show and Adelaide — a competitive arena for White Suffolks.
Craig is upbeat about the industry, but worries about consolidation of processors.
"We all need to survive and have a piece of the pie, we want everybody to be viable so there is plenty of competition."