Gemini sale to highlight first-drop progeny
Courtesy of
Janine Elen, Outriders Media
December 14 2021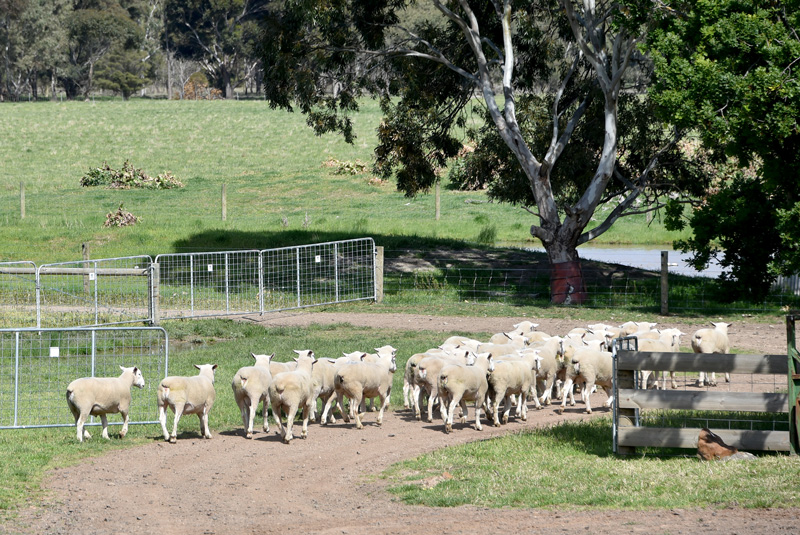 The first progeny of Farrer 190001 are expected to be a major drawcard at Gemini Prime Lamb Sire's Annual Summer sale on Wednesday 2 February, 2022.
The 11th annual sale will feature about 110 White Suffolk ram lambs and Gemini stud principal Craig Mitchell expects Farrer 190001's first-drop progeny to attract strong interest.
Farrer 190001 was purchased by Gemini and Bundarra Downs White Suffolks for a sale-high $13,500 at in September 2020.
Sired by Super Whites ram Felix 170842, Farrer 190001 has tremendous figures; boasting a 2.8 birthweight, 21 for post-weaning growth, +0.2 for fat and 2.8 for PEMD and is ranked in the top 5 per cent for LEQ.
"We're waiting for the data to come back but we expect the first of his progeny to be tremendous sheep," Mr Mitchell said.
The February 2 sale will feature a strong group of June 2021 drop ram lambs including progeny of Gemini 170470; an exceptional White Suffolk ram with birthweight around .2, growth of 20, positive fat with muscle 3.2.
Another lower birthweight ram whose progeny is expected to impress, is stud sire Gemini 190450, a ram that has been used extensively in the SuperWhites Suffolk program in a number of studs throughout Australia.
Mr Mitchell said he had strong expectations for the sale on the back of a good season and a very strong lamb market.
"The industry is looking pretty good," he said. "We've had a very good season to date and the future for lamb prices and red meat in general looks pretty bright, with strong demand for red meat locally and worldwide."
Gemini's reputation for quality and the highest health status in Victoria continues to hold the stud in good stead.
"Our focus is still around high lamb survival, easy lambing, low birthweight, strong growth and heavy yielding progeny, which are the positive genetic benefits people want," he said.
Gemini's focus on DNA testing to improve on meat eating traits including verification of the yield, intermuscular fat and tenderness, remains a core part of its breeding program.
"We're continually working on it and verifying our data through LAMBPLAN and using DNA to build up the accuracy of our stud group and progeny we sell," Mr Mitchell said.
Troy Keating, a long-term client who farms nearby in Werneth, says he will be returning to buy more rams on February 2 to boost his breeding program.
"We use Gemini rams over all our first-cross ewe lambs and mature ewes and have done so since Craig moved here about 15 years ago," Mr Keating said.
Mr Keating is drawn back to the stud by the ease of lambing. "You've got to get them on the ground before anything else and we're always impressed with the ease of lambing," he said.
"Craig also has good balanced figures across all his sheep, from muscle fat and IMF as well. His figures stack up against any other sheep in Victoria, even Australia."
"I'll definitely be back for the 2022 sale," he said. "We use Gemini on all first-drop lambs and we've had a lot of success over a long period of time. Craig is easy to deal with and backs up what he produces."
Craig Mitchell said "It's encouraging to see the results clients are getting at market from the rams they have purchased from us.  We are looking forward to kicking off a great year at our February sale".
The auction will be on-farm in the sale barn at Werneth starting at 12.30pm and online via Auctions Plus.  Visit www.geminiprimelamb.com.au for more information.